Find freedom at home with stair lifts
National Seating & Mobility is proud to serve the St. Louis area, helping residents access and enjoy every room in their homes—even the upper level! Our stair lifts can be fitted to most existing staircases so you can move up and down your stairs with ease.
You deserve to feel safe, comfortable and independent in your home.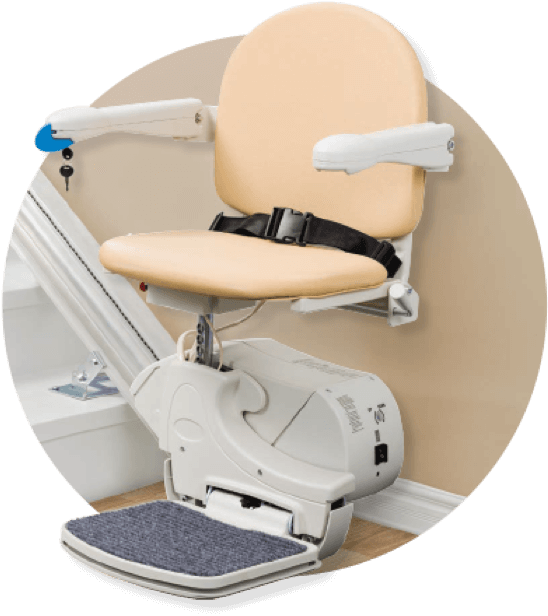 Don't Let stairs get in your way
---
With NSM's easy-to-use, high quality stair lifts, you'll…
Be able to access all the rooms in your home

Maintain your independence

Find a solution that suits your specific needs

Spend less time worrying about your home's safety and more time enjoying it
Live Confidently In the Home you Love in 3 Easy Steps
Our trusted advisors would love to talk to you about what you want life in your home and beyond to look like and how NSM solutions can help you get there.
Get Your free consultation
Our trained specialists will come to your home and provide a free consultation and put together a plan to help you determine what solutions would best suit your needs.
Once our products are installed by our certified technicians, you can get back to enjoying the life you love with less worry.
Testimonials
What a wonderful experience! When I called to ask questions, I was given upfront and honest answers right away. They even gave you the pricing right over the phone without hesitation. I was promised an in-home consultation and that there would be no pressure to make a decision on the spot from the sales person. They were true to their word. This was by far the most comfortable purchasing experience I've ever made. The installer did a phenomenal job and spent time teaching us how to use the lift. I could not be happier!
-Andrew F.
I am overwhelmed with the friendly, professional matter in which the NSM team took the time to inform, communicate and assist in providing much needed information & help with the stair lift. Their efforts in making everything run smoothly & efficiently was exceptional! I would recommend them to anyone!! Great job! Great service! Caring people! THAT'S NSM! Thank you from the bottom of my heart. You made life a lot easier for me! THANKS!
-Tina C.
Service was excellent for a chair I had installed for my brother. I live in another area of the country and NSM made the whole process very easy. I cannot say enough good things about this company!
-James A.
Or fill out the form below and we will get in touch with you